Next version of TS is out, this time with the new update to Pregnancy Mod and some tweaks to the core game. It can be downloaded from my patreon. For those of you who did not tried my game before, I would like to sum it up a little and note what you can do in it:
- You play as a male character who gained a superpowers by mysterious means - you can influence a mind of any female at will. As you train and build up this power, you discover another abilities, such as corrupting female behavior, or even taking full control of their bodies. You must train you abilities and as you level up (by performing sex acts) you can choose perks to customize your character
- In a main quest, you must try to hide your abilities from FBI, which involves hacking computers, reading mind and seducing FBI agents and even getting entry into a top secret facility.
- Dozens of side-quests will unlock additional possibilities, characters and locations for you. For example:
- If you find a camera crew, studio and actors, you can shot porn films for profits. There are three different films you can shot.
- You can organize pool parties after finishing a simple quest. Invite who you want and have fun
- One character in a game owns a secret BDSM dungeon. If you are not careful, you can end up in it as a slave. However, with enough power, you can take control of the dungeon and bring unwilling victims into it
- Gaining the ability to possess (take control) of another body will allow you to play as any in-game female character for a short time. You can sell their bodies for sex, or unlock numerous lesbian scenes.
- There are 23 NPC in the game, some of the you will probably not even met during a single play-through. For example, you will gain access to your aunt May and her daughter Meg only after completing an extensive quest.
- Activate various mods to unlock more fetishes in the game. For example, there is a PregMod, with witch you can get each girl gradually pregnant, or a DogeMod, which will add a canine companion to the game.
Attachment: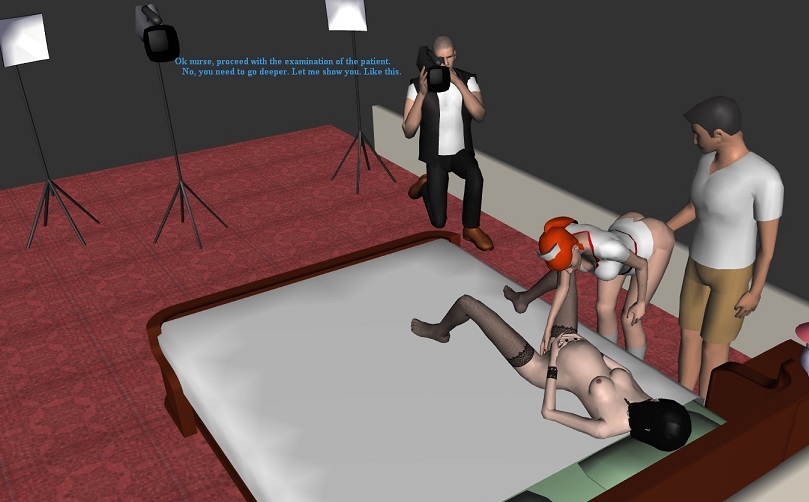 scr02a.jpg [ 92.24 KiB | Viewed 2348 times ]