UPDATE 4/23: BUILD 29 READY!
But it doesn't fit under this site's attachment system,
You'll have to use my thread on E-Hentai to download it.
Build 28 was downloaded 107 times from here

About 3 years ago, I started playing around with RPGmaker VX because of because someone on hongfire asked for custom sprites and I answered the call. First it was just the custom sprites but then I actually installed RPGmaker VX. I actually started looking into custom Ruby code and what I could do with it.
Now this right here is the testing RPG I made.
Attachment: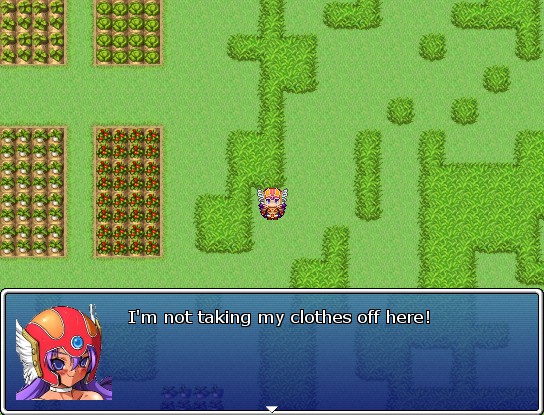 Not taking off clothes.jpg [ 91.82 KiB | Viewed 5852 times ]
Now there's not too much to it, it's about 20 minutes of content. Most of it is jokes, most of which are visual.
A few notes.
-You can only save after going to sleep.
-- There is a free bed to use in the stone fort at the beginning of the game.
-- There is also an inn somewhere.
- There is an non-standard game over scenario programmed in.
-- But it can be narrowly escaped...
-I fiddled with the equipment menu, and replaced armor slots with accessory slots.
-- The "Basic Armor" item you start out with is for changing your visual appearance.
--- It does nothing for your stats.
For those of you who have been on RPGmaker forums and have installed a VX RTP, this game will run for with no problems.
For those of you who have not idea what an RTP even is, then you need to read this.
Code:
This game needs the RPGmaker VX Run Time Package to play.
Which can be found at this website.

http://www.rpgmakerweb.com/download/additional/run-time-packages

You want the VX RTP!!! Not the VX ACE RTP or the XP RTPs!

If the file you get is about 35 megabytes, then you got right one.
Install it, and you're good to go.

It's just the base game data that any RPGmaker VX game needs to run,
so installation is just a TOS agreement and where to install.

I could have uploaded a version of the game that didn't need you
to install the VX RTP to run, but that would have rasied the zip's
filesize by 35 megabytes and this board only allows attachments
to be large so there you go.
Now the reason I am posting this is because I'm considering getting back in making content with RPGmaker. Namely hentai content. I'm going to be doing so experimenting to see if what I have planned is actually viable.
For now, just enjoy what happens when all I got is my painting program and my sense of humor.